no.23


2018 1/18(thu)ー 2/4(sun)





Six Motets
KATO Etsuro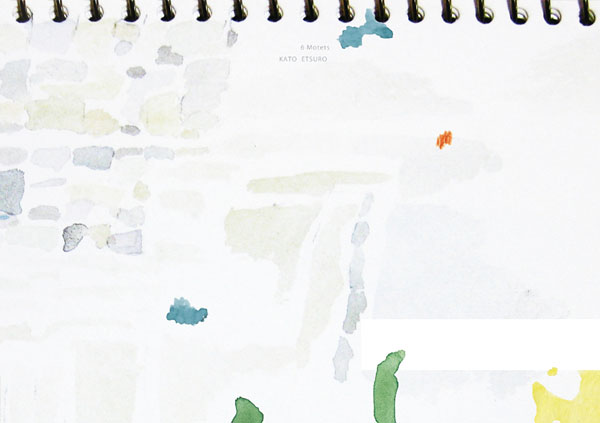 ---
related Events  1/20(sat)PM4〜

---
---
Etsuro Kato




NUMACHI Stripe

Walking around the city, walking around field, I reach to a swamp.
I have not questioned myself anymore,
And there is no way home.
Still I reach there sometime.
Do not underesstimate habituation, physicalization.
Common, rough scenery shakes,

Kato Etsuro

    



Solo Exhibitions


| | |
| --- | --- |
| 2001-2009  | Gallery Haku, Osaka Japan |
| 2002 | CAI Contemporary Art International-Hamburg, Germany |
| 2003 | Gallery Den, Osaka Japan) |
| 2004 | POLETTO-Hamburg, Germany |
| 2005 | Gallery Den, Osaka Japan |
| 2010 | Gallery Den, Osaka Japan |
| 2011 | port gallery, Osaka Japan |
| 2012 | 2kw gallery, Osaka Japan |
| 2015  | port gallery T, Osaka Japan |
| 2016 | +1art, Osaka Japan |
| 2016 | Horyuji gallery, Nara Japan |
| 2017 | Gallery Haku, Osaka Japan |





Group Exhibitions


| | |
| --- | --- |
| 1992-2011 | Polysphony below freezing point |
| 1999 | Contemporary Japanese Art Exhibition, A museum award |
| 2001 | Illusion of 6 Contemporary Artist in Korean&Japanese Gallerywooduk, Seoul Korea |
| 2001 | YoshiwaraJiro Awards Exhibition、Grand Prize |
| 2003 | GARO no SHITEN:Gallery perspective Contemporary Art Center, Osaka Japan |
| 2012 | MIZUGIWA no GURURI 2kw gallery, Osaka Japan |
| 2017 | Landscape painting Gallery Haku, Osaka Japan |



---
It seems difficult to believe that the solid material is actually vibrating. But it's true at the atomic level.
The micro world is invisible and we can not hear any sound. However this world is made of atom. Is it because of that ?
I sometimes feel sounds and echos in the space where there is no sound to emit. In most cases, it will be a memorable one. But it is not all that.
Kato Etsuro often goes to field and sketches it. When entering deep into nature, our senses are sharp.
Every existence that surrounds us lives and breathes and shakes. He stood in it and he heard a sound like sensitive wild animal.
Then, he hears "the sound like shaking the space and starting up the world" in his ears. It is the sounds reminiscent of polyphonic songs (motets),
in which several melodies intertwine like rising air currents.
That sound that make him head towards creation does not stop even now.

+1art kawaragi
---